PBR Roofing & Siding
» Metal Roofing In Union, MO
Our PBR panels are the strongest, most commonly used profile on a wide variety of commercial, industrial, agricultural and some residential applications.
The biggest advantage to PBR is the bold 1 1/4 inch ribs on 12 inch centers, making this panel strong enough to span 5 foot on centers to minimize cost.
The minimum roof slope for our PBR panel is 1/2:12 and it offers a 36 inch net coverage. It is available in 26 gauge steel with 20+ different colors in stock, including acrylic coated galvalume. Order today and pick up today, or we can deliver to your job site within 72 hours.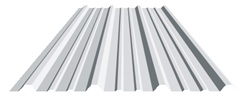 See color palette below
Available in all 20+ colors
Also in Acrylic Coated Galvalume
36″ Net Coverage
26 Gauge (Standard)
Substrates:

AZ-50 Galvalume (Painted)
AZ-55 Galvalume (Acrylic Coated)

Warranty:

40 Years (Painted)
25 Years (Acrylic Coated Galvalume)

Minimum Slope: 1/2:12
Substructures:

15/32″ CDX or #2 1×4 Yellow Pine (min)
Steel Purlins
Hat Channel

Detail Manual/Installation Guide Available
Available Colors:
The Valspar Weather XL paint system employed on our product is EPA Energy Star rated. It offers optimum exterior protection plus superior resistance to corrosion and ultraviolet radiation.
Galvalume
Pure White
Polar White
Ivory
Light Stone
Mocha Tan
Navy Blue
Forest Green
Hawaiian Blue
Gallery Blue
Barn Red
Patriot Red
Burgundy
Cocoa Brown
Metallic Copper
Galvanized Silver
Old Town Gray
Clay
Charcoal Gray
Burnished Slate
Black